(FreedomTaker) Your "SMART METER" is a surveillance device that monitors your "energy consumption behaviour" and it emits biologically destructive "pulsed" and "dirty electricity" radiation in your home, and it is UNLAWFUL TRESPASS because your power company has no easement (rightful access) to do that!!
REPLACE IT YOURSELF!
SAFE METER REPLACEMENT KIT INCLUDES THE FOLLOWING:
A safe, standard and traditional "ANALOG ELECTRIC METER" (above) which is compatible with 90% of all homes and small businesses. This meter emits no radiation, converts no AC to DC (no "dirty electricity") and stores no data other than the usage display number on the face. Unless your electrical service is unusually large, old or specialized this meter will be compatible for replacement. (If not we will refund the cost of the meter).
The MOUNTING RING that secures the meter in place.
A TAMPERING-INDICATOR CLIP
LEGAL NOTICE TEMPLATE (Word file on a CD). You add your info (like name, address and power company name) and send it to your power company. This notice gives them a LIMITED TIME to install a safe analog meter and, if they don't, it secures YOUR right to replace the meter yourself!
INSTRUCTIONS on how to fill out and send the Notice.
INSTRUCTIONS to help you replace your meter lawfully and safely.
A link to an online VIDEO showing how meter replacement can be done.
A weather-resistant tag to notice and warn your power company of consequences if they tamper with your safe and sane meter.
SAFE ELECTRIC METER REPLACEMENT KIT

$84.95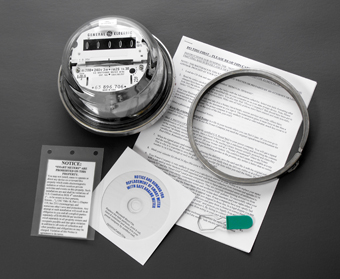 Plus tax, $15.00 shipping
Ships within 2 business days
CANADIAN VERSION IS AVAILABLE,
SEE LINK BELOW
On orders from outside the U.S., you will be contacted for additional shipping cost
Refunds only for damaged or defective materials. Shipping costs are not refundable.
Much more information at link below…
Source: FreedomTaker
Related: